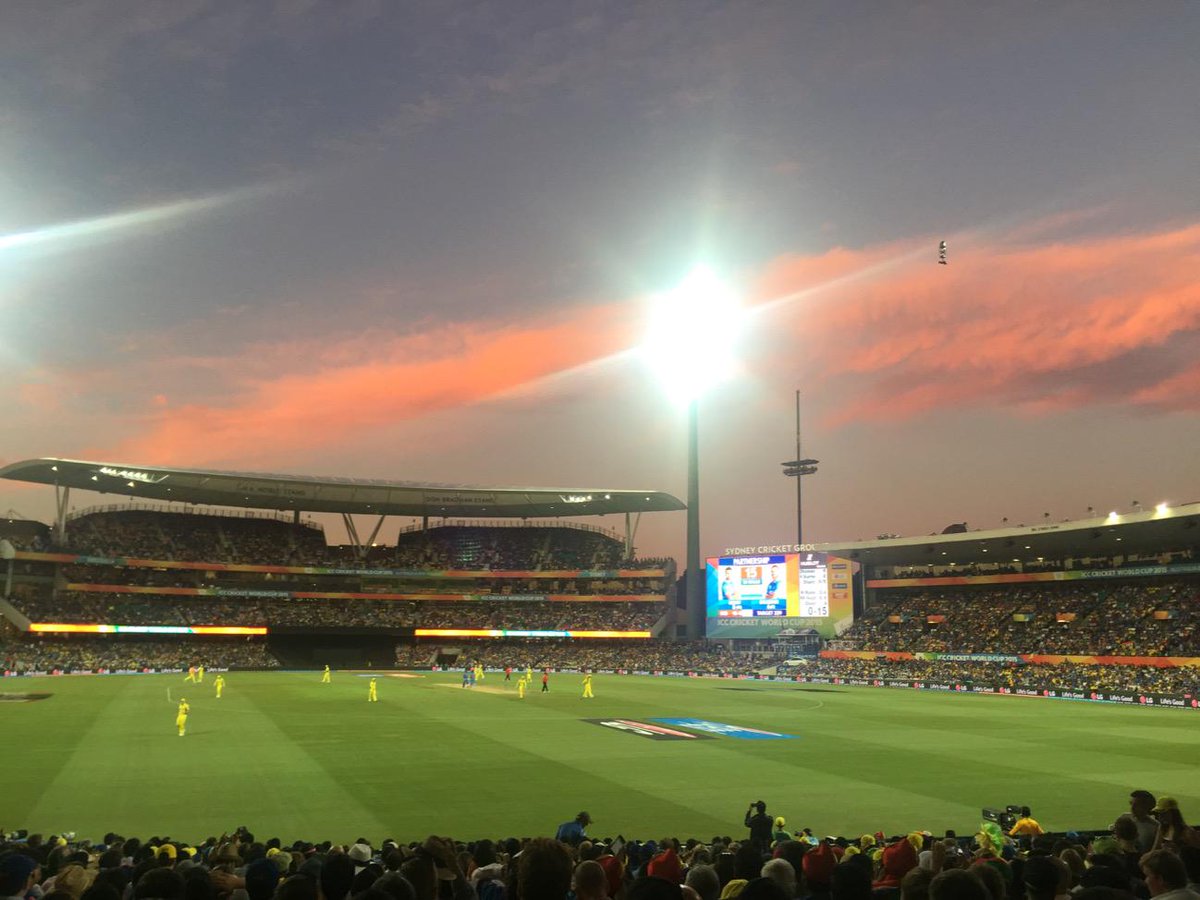 When the teams met in the World Cup semifinal on Thursday at the Sydney Cricket Ground, there was bound to be some friction.  Both captains were charged and have attacking mindsets.
* Australia won the toss and choose to bat first, and took the advantage of batting first. Australians bat really well and scored a respective target to beat Indians or to put them under-pressure. Smith's 105 helped Australia to a total of 328 for seven, the highest in a World Cup semi-final, and he had great partnership of 182 with opener Aaron Finch who scored 81.  Australians batsmen really played well because scoring 328 runs in world-cup semi final isn't a easy task, and offcourse over 300 is always a difficult score.
"We thought 330 was around par but we knew we had to bowl and field well and the boys did a terrific job tonight," said Smith.  Australia, who is considered one of best team of ICC Cricket world cup 2015, posted an imposing total of 328 for seven from their 50 overs.
On the other-hand India were over confident, plain and simple. They didn't seem to have their heads in the game. They were more than capable of reaching the target, but the quick fall of wickets ruined their planing. Captain Dhoni is one of the energetic player but today they were so under-pressured that everything was failing, whether it somes to their bowling attack or batting. India could only manage 233 in reply. Captain Mahendra Singh Dhoni top scored with 65 while Shikhar Dhawan was the next best with 45 Indians had a good start But obviously when you get pressure chasing 300+, makes you do things you don't want to do. If Australians couldn't made 300+, India might be the winner, who knows I think Virat and Kohli are responsible for putting their team in under pressure and they should be responsible as "careless" for being so unprofessional and throwing their wicket after a good start. As a result India lose two big wickets under 100. If they maintained their partnership, they could have been able to make match wining runs. This was " do and die " type of match but India didn't performed as they should perform at this level of cricket.
Indians supporters were disappointed but when Dhoni was batting, there was still a hope for them that they still have chance to win but when he was out, they realized that they don't have chance now. Actually when Dhoni was dismissed, the match already have finished beacuse he was the last hope for their team and aswell as for their supporters.
The pressure was just too much for India in the end. They put a spirited defence of their World Cup title but chasing more than 300 to beat Australia in Thursday's semi-final was a task even beyond them. Dhoni top scored for his team with a run-a-ball 65 but it was all in vain as the Indians collapsed to be all out for 233 in the 47th over, chasing Australia's daunting 328 for seven.
India's players were disappointed to lose but gracious in defeat, acknowledging that the Australians had played better. For India's captain Mahendra Singh Dhoni, it was a moment tinged with sadness.
As a Pakistani i was obviously with Australians, no Pakistan wants India to win. When it comes to match, the battle is always apparent on social media. As u can see the tweet screenshot above, its showing clearly that everyone was waiting for Indians defeat.
Australia, who have already won the World Cup four times and now will again appears on the screens in the Final of ICC cricket world cup 2015. yes, Australians will play with New Zealand in the final at Melbourne on Sunday. As far as my prediction is considered, i think Australia will win the final. Though new-Zealand is tough time but Australians have more chance to win. The competition between both teams will definately the tough.
After along hurdle, Australians and new Zealand have come in finals. Now lets see who will win  "CUP". Whoever the winer will be,  must be appreciated. Because acheiving the title of "ICC Cricket WorldCup Campinas " isnt a esay task, for that they have to beat many other teams and must struggle hard.